I have 3 kids whom all have electronic devices at one time or another. One is non verbal autistic so its imperative to keep his devices charged or its world war III in the home. I originally bought this device to charge his phones and tablets, but I saw also that its a flashlight and can jump start a car. I have neighbors and also live across from a store that I see people always needing to be jumped, so this might be helpful to other people.
This device claims it can jump start 20 cars on a single charge.
The battery lasts for 6 months on a single charge.
This little device claims to have 12,000 mAh of power for car jumping. Typical car battery has 550 mAh where the larger ones are smaller than 1,000 mAh. This means this little device is like 20 car batteries, so jumping a car battery should be easy for it.
Whats included?
I saw the image showing the carrying case that was enough to capture my attention.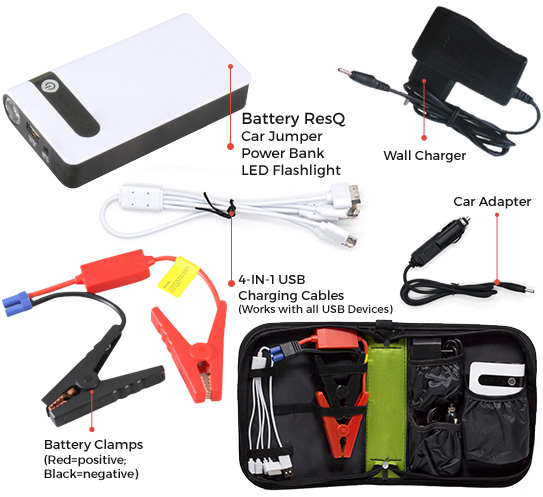 it seems to have all the cables required for most electronic devices, i love the little jumper cables and then how the adapters and device fit snug in their pouches. This device was a good purchase for 80 dollars. They have a special going on right now.