my ubot program i have purchased like 15 plugins for it and its quite powerful example I have a bunch of snippets on https://forrestbowman.com/wordpress-snippets/ now the script i used to originally make that is broken, so i need to recover my snippets.
Each script is in an accordian so obviously copy and paste wont work, i could view source but i would still get all the html code tied to the scripts elements.
so I made a bot to scrape my scripts. It works flawless.
I have made a video showing this script in action. Unless you are a web developer or programmer you might not really understand how amazing this is.
You know i love it when i invest in a program that I know is going to be good. I invested in a program about a year ago, and this program has added so many features.
This little program has a lot of power, I just need to learn how to utilize it for everyday things.
Cheat Engine 6.8.3
Fixes:
debugging/stepping with hotkeys
several high DPI visual glitches
VEH debugger reattach works again
Pointerscan resume works again
Stackview can now show by reference , previously it did nothing
disassembling imul
speedhack while key down option
assembling values with x*2/4/8
the "resume thread" in the threadlist now resumes threads instead of freezing them
fixed an error popping up when editing registers with no debugger attached
getNameFromAddress will not show userdefined symbols when symbols are disabled
Additions and changes:
Waiting till all symbols have been loaded has been removed
Launching structure compare from dissect data now only needs 1 address, though it's recommended to have at least 2 each
Code completion in lua engine is now more smoother
You can now compare traces generated by the tracer
Threadlist window now has a copy to clipboard
Structure compare now digs deeper into pointers
Pointerscan import/export now works with newer types as well
Better Lua comment support
Added rudimentary sort to the structure compare window (based on levelwidth only)
Referenced strings now also shows if it's unicode
Formdesigner now has a context menu to add undocumented controls
lua:
added enumMemoryRegions
added getWriteLog (Let's you get the writelog and activate it)
HexadecimalView: added the OnCharacterRender and OnValueRender events
How to use:
There's a tutorial program included with Cheat Engine,
it teaches how to use the basics of Cheat Engine, also the helpfile may be of use.
For comments or suggestions and such, contact me at:
e-mail(msn) = dark_byte@hotmail.com
For more information about Cheat Engine or tables for it
and other things, goto this url:
http://www.cheatengine.org/
I am super excited about this acquisition, because I use poser software quite a bit for my 3d products. I wonder what this will hold in the future for the poser software. Story is here.... https://magazine.renderosity.com/article/5283/renderosity-acquires-poser-from-smith-micro
I have 3 kids whom all have electronic devices at one time or another. One is non verbal autistic so its imperative to keep his devices charged or its world war III in the home. I originally bought this device to charge his phones and tablets, but I saw also that its a flashlight and can jump start a car. I have neighbors and also live across from a store that I see people always needing to be jumped, so this might be helpful to other people.
This device claims it can jump start 20 cars on a single charge.
The battery lasts for 6 months on a single charge.
This little device claims to have 12,000 mAh of power for car jumping. Typical car battery has 550 mAh where the larger ones are smaller than 1,000 mAh. This means this little device is like 20 car batteries, so jumping a car battery should be easy for it.
Whats included?
I saw the image showing the carrying case that was enough to capture my attention.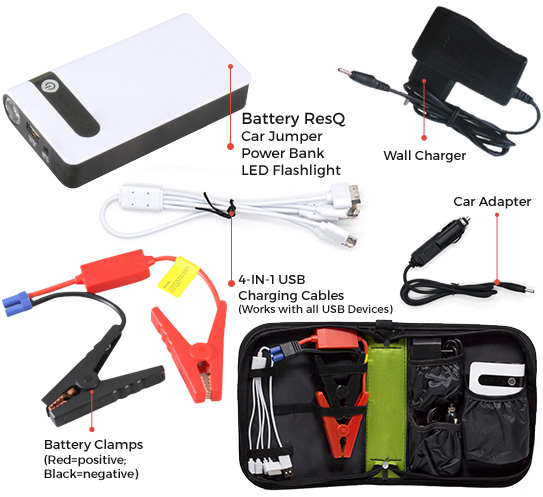 it seems to have all the cables required for most electronic devices, i love the little jumper cables and then how the adapters and device fit snug in their pouches. This device was a good purchase for 80 dollars. They have a special going on right now.